Description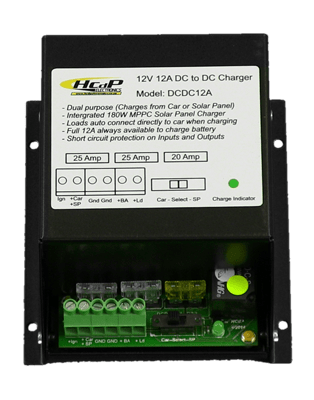 DCDC 12Amp 12V Charger
This DCDC 12Amp 12V Charger is a great way to charge your dual batteries in your vehicle, boat or camper trailer. This unit will supply a 12 Amp constant feed with its unique "bypass charge" system to your dual batteries even when your fridge or electrical appliances are on during traveling.  The HCdP DCDC 12Amp 12V Charger can also charge your second battery direct from your solar panels as it has a built in 180W MPPC Solar Panel Charge controller.
This rugged unit is cased in powder coated mild steel, and has built in cooling fans to ensure that the unit can provide optimum performance under extreme load and conditions.
Why do you need a DC/DC Charger?
A DC to DC charger eliminates the need for a dual battery switch and the need for heavy gauge wire from car to charger. When you put a battery in the back of your vehicle and run a cable from your main battery, you will most probably get a voltage drop. This will result in the extra battery to be not charged properly.  The DC to DC charger is a step up charger which boosts the voltage at the extra battery to up to 14.2 volt in order to ensure a proper charge.
Where should you install a DC/DC charger?
Although tempting for convenience sake and space saving, the worst location for a vehicles dual battery and associated charger is under the bonnet of the car.  This is because the performance and lifespan of electrical components is severely degraded by frequent and prolonged exposure to high temperatures.  The ideal location is in a vented area away from excessive heat sources.
DCDC 12Amp 12V Charger Key Features
Dual purpose DC to DC Lead Acid Battery charger
Charges 12V Lead Acid Batteries from vehicle or Solar Panel
Integrated 180W MPPC Solar Panel Charge controller
Compensates for voltage drops over supply wires
Eliminates dual battery switch and the need for heavy gauge wire from car to charger
Will not flatten vehicle battery
Charge indicator LED
Loads automatically connect directly to vehicle supply when driving
Full 12A always available to charge battery
Integrated temperature controlled cooling fan
Short circuit protection on inputs and outputs
In Solar Panel mode loads will automatically be connected to battery (no bypass function)
Rugged contruction using powder coated mild steel box
Easy installation
Technical Specifications
Switch ON voltage : > 13.3V (on Ignition input)
Switch OFF voltage : < 12.5V (on Ignition input)
Charge input voltage : 10.5V to 15V (on Car & GND connection)
Solar Panel input power : 180W max
Input current : 17A max plus load current
Output voltage : 14.2 +/-0.1VDC
Charge current : 12A max
Operating temperature : -10 to +45 degrees Celcius
Dimensions : 145mm x 130mm x 68mm
Weight : 820 gram
Warranty
This product will be replaced or repaired if a failure occurs within one year, from the date of purchase, as a result of faulty materials or workmanship provided that the product is returned with proof of purchase. Replacement or repair shall be at the discretion of the manufacturer. This warranty excludes failures which results from misuse of the product. The manufacturer and/or seller shall not be held liable for personal injury or consequential damages that may result through the use of this product.Lightning damage is excluded from this warranty.
Warning
Do not block ventilation holes at rear or on the side
Do not expose to rain or water
No user serviceable parts inside